Guiding with Ed Schliffke.
Come Shore and Boat Fishing.

Ed's been a dedicated fisherman since he was knee-high to a Grasshopper, and his love for angling has resulted in him winning many trophies and catching a good number of specimens, including many good Bass weighing in at over 10 lbs. Not for nothing is he called ''ED THE BASS''. For many years now he has been successful as a professional shore angling guide.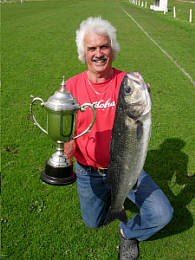 SPOILT FOR CHOICE Ed will take his customers spinning and float fishing for Mackerel, Garfish and pollack, plugging for his beloved Bass, ledgering for Plaice, Turbot, Ray and Wrasse. Night fishing for Conger and Huss, all from the shore and often highlighted by spectacular sunsets.
However If boat fishing is your angling scene why not book a trip aboard the EMMA KATE II She's a Lockin 33 fully licensed for 12 person's, skippered by Lee Wicks. You can choose from a 2 hour Mackerel session, great fun for all the family or 4 hour Reef fishing trip for Pollack, Cod and many other different species, or for the more dedicated angler 8 hour Reef or Wreck fishing. Rod and reels can be supplied for all the trips.